Heating Repairs
When your heating system encounters issues and requires repairs, we are here to provide prompt and reliable service. Our team of skilled technicians specializes in diagnosing and repairing a wide range of heating problems, ensuring that your system is up and running efficiently in no time. We understand the importance of a properly functioning heating system, especially during the colder months, and we are committed to delivering high-quality repairs that restore comfort to your home or business. Whether it's a faulty thermostat, a malfunctioning furnace, or any other heating issue, we have the expertise and experience to tackle the problem effectively. 
Heating Installation
We understand the importance of a properly installed heating system in ensuring optimal comfort and energy efficiency in your home or business. With our extensive experience and expertise, we handle heating installations with precision and attention to detail. Our team of skilled technicians will work closely with you to understand your heating needs and recommend the most suitable system for your space. Whether it's a furnace, heat pump, boiler, or any other heating system, we ensure proper sizing, efficient installation, and adherence to all safety codes and regulations. We take pride in delivering high-quality craftsmanship and using top-notch equipment to ensure the longevity and optimal performance of your new heating system.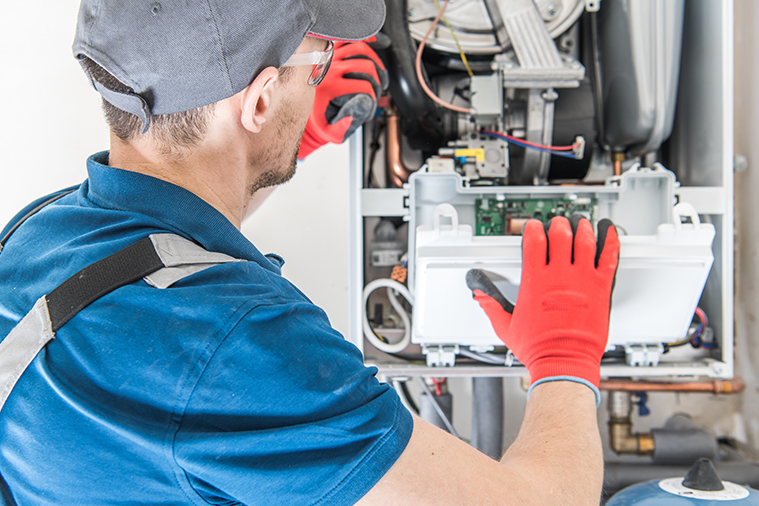 How Efficient is Your HVAC System?
Just because your heating and cooling system is functioning doesn't mean it's working at peak efficiency. Typical installed equipment only operates at 55% to 70% of its manufacturer rated capacity and efficiency because of improper installations. Like your body, your home heating and cooling equipment relies on many things to work together efficiently so you get maximum comfort with a minimum energy cost. Think of the airflow through your house like blood through your veins. Proper blood flow (air travel) will cause optimal environments. Most contractors don't even know how to diagnose all the parts of your HVAC system, let alone measure and show you actual numbers representing the blood pressure of your HVAC system.
We are NCI trained heating, ventilation, and air conditioning (HVAC) professionals experienced to test systems just like yours to determine existing efficiency and then optimize your home for comfortable air in every season. Our professionals can also pinpoint troubles in your HVAC system and fix them.
What is Air Balancing?
In its simplest form, air balancing is the process of testing and adjusting your air conditioning system to deliver the right amount of air to each room in your home. The actual air balancing process includes a number of related tests that determine the performance of your air conditioning and heating system. It's not uncommon to find a system 30% to 50% low on airflow. Air passes through the equipment and carries the heating or cooling inside. The effectiveness of the equipment is entirely dependent on the amount of airflow. When your COMFORT SOLUTIONS technician measures the airflow, he or she can "see" system performance. With this information he or she can diagnose, repair, and balance the duct system for maximum performance. The end result is having rooms that are the same temperature, have cleaner air, better humidity control, and real energy savings.
Why is My Duct System So Important?
The duct system is a series of conduits that carry the warm and cool air from your air conditioning and heating equipment into your home and then take it back to the equipment. The ducts also control how much air is delivered to each room. The right amount of air will keep the room temperatures where they need to be. If ducts are damaged, improperly installed, or the wrong size, they can cut your system's ability to heat or cool by more than half on hot or cold days, — when you need it the most.
Do I Know How Well My System Is Working?
Ducts move air, and air is invisible. So to determine if your ducts work or not, air properties must be measured. An NCI-Certified Professional can measure how much air goes to each room and compare it to how much is needed. He or she will also take other measurements — including temperatures and pressures — to determine how well your ducts work. Then your COMFORT SOLUTIONS Professional will review the results of the test with you.
Unfortunately few have the knowledge or own the tools and instruments necessary to measure the performance of your duct system. If they can't measure it, they have no idea how to fix it, or even where to begin. Most just assume the ducts are working fine. That is how COMFORT SOLUTIONS is a different kind of heating and cooling company.
What Is A Heat Pump?
A heat pump is an all-in-one heating and air conditioning system that works year-round to keep you comfortable. During warmer months, a heat pump works as a normal air conditioner. It extracts heat from inside the home and transfers it to the outdoor air. In colder weather, however, the process reverses—the unit collects heat from the outdoor air and transferring it inside your home.
Even when the air outside feels extremely cold, the air still contains some heat. The heat pump pulls the heat from this cold outdoor air and sends it inside to warm your home. When there's not enough heat in the outside air to meet the demand of the thermostat setting, an electric heater supplements the outdoor air to warm the home. Extremely efficient, this process produces two to three times more heat than the energy it uses.
What Is Two-Stage Heating?
Two-stage heating means the furnace has two levels of heat output: high for cold winter days and low for milder days. Since the low setting is adequate to meet household heating demands 80% of the time, a two-stage unit runs for longer periods and provides more even heat distribution.
Longer, low-capacity operation has many advantages:
Consistent comfort
Two-stage heating eliminates the temperature swings associated with standard furnaces, regulating temperature to within as little as one degree of the thermostat setting.
Quiet operation
Two-stage furnaces start in the first stage, when the amount of heat required is lower, instead of reaching full capacity all at once. That means there's no sudden "kick" or blast of air.
Improved air filtration
Low-speed operation allows your filters to capture more contaminants (because air is constantly passing through them), so you can breathe easier.
Efficient performance
Because the furnace operates mostly in its lower-capacity first stage, it burns less fuel than a standard furnace that always runs at full capacity and shuts off when the heating demand has been met.
Our A/C went out on the hottest weekend of the summer so far. I called the on call service due to it being a Saturday morning. I explained what was happening and they said that they could squeeze us in the afternoon. They called back 10 minutes later and said they were on the way. Comfort Solutions had us up and running in no time. We appreciated their promptness since we have a 5 month old son. I have recommended Comfort Solutions to many of my friends since we had our unit installed. All around a great company that cares for the customers.
Chad Weidemann
Homeowner
Reasonably priced, very professional, and very helpful. I call on these guys each spring and fall to clean and inspect my central air and furnace. And they have helped me on a couple repairs in the past, I've been doing business with them for many years!
David Olsen
Homeowner

Dedicated to making your home safer, more energy efficient, longer lasting, and ultimately more comfortable than the average residence. Serving the Cedar Rapids Area.