About Us
Comfort Solutions is the only company in Iowa that offers a total home comfort package. HVAC, Insulation, Energy Audits, and cutting edge AeroBarrier all under one roof. Combining expertise from the worlds of heating & cooling, insulation, air sealing and energy audits, we are dedicated to making your home safer, more energy efficient, longer lasting and ultimately more comfortable than the average residence.
We understand comfort is custom and we have the experience to tailor our services to your specific needs. Fixing problems comes down to understanding how homes operate as full energy systems. Our professionals have the experience and ability to test and analyze all factors that might be negatively influencing your home. As we always say, "if they aren't testing, they're probably just guessing."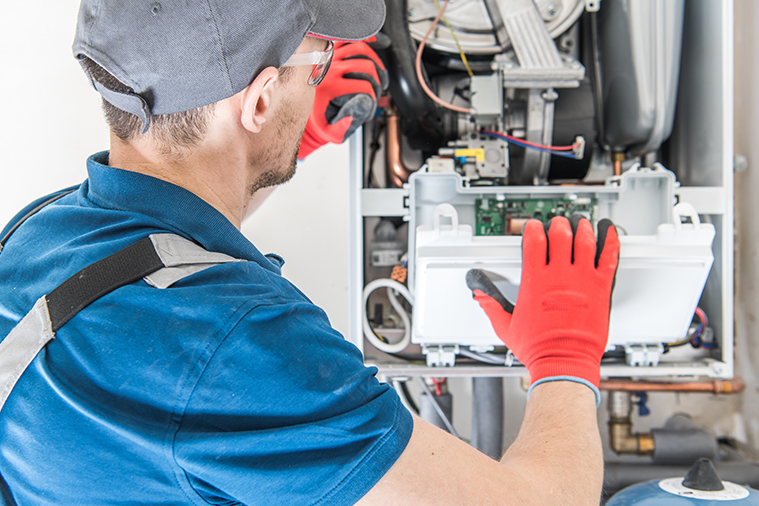 HEATING AND AIR CONDITIONING CEDAR RAPIDS
HEATING AND AIR CONDITIONING HACKS TO KEEP YOUR APARTMENT COMFORTABLE
Your Cedar Rapids, Iowa heating and air conditioning isn't running as smoothly as you'd like and your bills keep increasing. Thankfully, you can perform the following hacks to improve how your system operates and to get the most out of your units. Most of these hacks are things that you can do without help.
USE YOUR CEILING FAN PROPERLY
Ceiling fans are often poorly understood by people and improperly set depending on the season. If you have a ceiling fan, you need to consider the following tips. First of all, in the summer, you should have your fan blowing downward. This change will help to blow air down on your skin that will evaporate sweat and cool you down. When paired with heating and air conditioning units, this effect is very potent.
Just as importantly, you need to switch up your ceiling fan so that it blows up during the winter. This step helps heat to rise through your home and will improve your heating efficiency by allowing your rooms to warm up more quickly. Just as importantly, this step can also spread heat through your home more effectively, particularly if you pair this effect with many ceiling fans at the same time.
If you don't have any ceiling fans in your home or apartment, see if you can get some installed to improve your efficiency. Talk to your landlord about this option to see if they are willing to help. They don't even have to pay if they don't want to – putting up a fan with your own money is a wise choice because it will significantly increase your home's efficiency and help lower your bills.
MANAGE YOUR DOORS
You may not realize it, but your doors are among the most essential ways to control your heating and cooling needs. Your doors can be used to shut off individual rooms and to keep them cooler or to control airflow more effectively. For example, you can shut all of the doors to your lower levels to prevent air from pooling down here and keep it upstairs where you spend most of your day.
You can achieve this same effect by closing off the upstairs areas where you may not spend a lot of time. For example, your attic probably doesn't need much heating and air conditioning use. Seal it off during the summer and winter and only go in there when necessary. In this way, you can improve the airflow through your home and ensure that you don't make any mistakes with your heating and cooling needs.
However, closing doors throughout your home can also achieve a similar effect, particularly if you pay attention to vent location. Shut doors to areas of the house you don't often use – such as rooms where guests may stay – and even shut off the vents. Though these rooms will receive some heating and cooling, they won't take up more than is necessary. As a result, your efficiency will improve.
INSTALL A PROGRAMMABLE THERMOSTAT
The thermostat of your apartment or home provides you with the control that you need to keep your heating and air conditioning needs well controlled. However, you may work regularly and leave home for hours at a time. You may even periodically go on vacation and leave your home vacant. Install a programmable thermostat to help improve your heating and cooling efficiency during these times.
These thermostats provide a broad array of benefits that more than make them worth your investment. First of all, you can program them to certain temperature levels while you're away from home. So you can set the cooling level to a lower power while you're away and set it to cool down just before you get home. You can do the same thing with your heating to keep your temperatures at adequate levels.
Another neat effect that you can achieve is to install multiple thermostats through your home in an attempt to control many areas of your heating and cooling needs. This step is smart because you can heat and cool specific rooms to comfortable levels and then manage the levels elsewhere in the house. Try this out if you have multiple heaters or air conditioners that you can use for your home.
MAINTAIN YOUR UNIT
Lastly, you need to make sure that your units are properly cleaned to ensure that they produce a proper level of heat. Cleaning your air conditioner and heater is relatively simple if you know what you're doing. Most people should be able to handle this hack on their own without professional help. And you need to clean your units often because dirt and debris can be surprisingly damaging.
For example, dirt and other debris around the coils may cause your air conditioner or heater to suffer and run improperly. The coils of your air conditioner may freeze up and cause operational problems. Even worse, you may end up burning some of that dirt and debris in your heater, which can cause a pretty nasty smell and which may trigger an increased fire risk in your home.
As a result, you need to clean your units regularly to avoid this problem. A simple wipe down of the surface of each should give your heating and air conditioning units protection from dust and dirt. Your cleaning schedule should vary depending on the units. Check them at least once a week and wipe them down as needed. A plan of no less than once per month is probably a good idea.
LET US HELP IMPROVE YOUR HEATING AND COOLING
So if you need help with your heating and air conditioning in Cedar Rapids, Iowa and don't feel comfortable performing these hacks, please contact us at Comfort Solutions to learn more. Our professionals will work with you to provide the kind of high-quality repairs and maintenance that your apartment or home needs.
Our A/C went out on the hottest weekend of the summer so far. I called the on call service due to it being a Saturday morning. I explained what was happening and they said that they could squeeze us in the afternoon. They called back 10 minutes later and said they were on the way. Comfort Solutions had us up and running in no time. We appreciated their promptness since we have a 5 month old son. I have recommended Comfort Solutions to many of my friends since we had our unit installed. All around a great company that cares for the customers.
Chad Weidemann
Homeowner
Reasonably priced, very professional, and very helpful. I call on these guys each spring and fall to clean and inspect my central air and furnace. And they have helped me on a couple repairs in the past, I've been doing business with them for many years!
David Olsen
Homeowner

Dedicated to making your home safer, more energy efficient, longer lasting, and ultimately more comfortable than the average residence. Serving the Cedar Rapids Area.