About Us
Comfort Solutions is the only company in Iowa that offers a total home comfort package. HVAC, Insulation, Energy Audits, and cutting edge AeroBarrier all under one roof. Combining expertise from the worlds of heating & cooling, insulation, air sealing and energy audits, we are dedicated to making your home safer, more energy efficient, longer lasting and ultimately more comfortable than the average residence.
We understand comfort is custom and we have the experience to tailor our services to your specific needs. Fixing problems comes down to understanding how homes operate as full energy systems. Our professionals have the experience and ability to test and analyze all factors that might be negatively influencing your home. As we always say, "if they aren't testing, they're probably just guessing."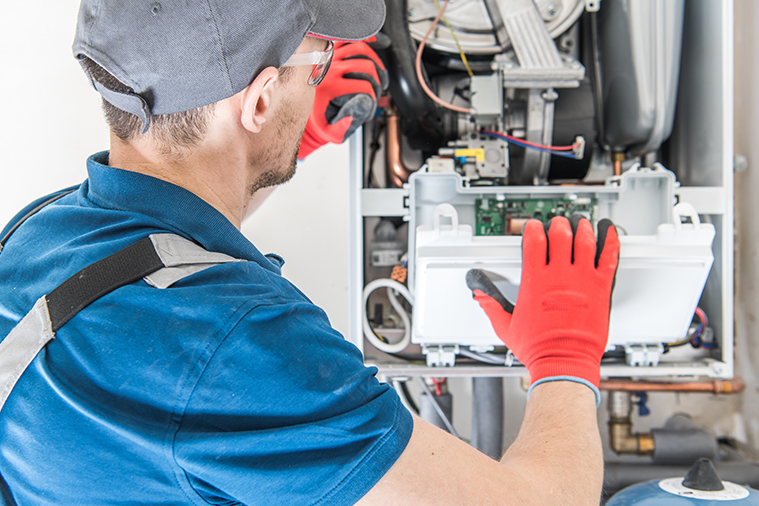 FURNACE REPAIR MARION
HACKS FOR REPAIRING YOUR FURNACE
For the last few days, your furnace has been running poorly, and you can't figure out why. This situation may require the best furnace repair Marion, Iowa has to offer. However, you may also be able to perform a few simple repair hacks that help your unit get back to an operational state.
HACK ONE: CIRCUIT BREAKERS
Your furnace is – for some reason – not producing heat, and you can't figure out why. You've tried all the furnace repair tricks that you know, and you still can't seem to get it to work. Have you tried merely resetting the circuit breakers? This situation can be an embarrassing one because most people won't think to take this step, but it can be a beneficial way of getting a furnace started again.
For example, there may be blown breakers in the furnace that you missed when you were trying to repair it. Or the unit may need a hard reset to clear out any programming errors that may have occurred at some point. This situation is kind of like when computer repair experts ask you to check if the computer is plugged in – it feels so obvious but so many people don't even think to check for it.
Therefore, you should make sure that you reset your breakers before you move on to any other step in this process. If you're lucky, there's a good chance that this step should trigger the hard reset that your furnace needs to start right back up again. If not, then you'll need to move on further down this list to try out other techniques. Thankfully, most should be easy enough for most to handle.
HACK TWO: SWAP YOUR FILTERS
You've tripped the circuit breakers on your furnace, and that seemed to get it producing heat again. However, the heat level is just not high enough for the setting. This situation is one that can be awfully hard to diagnose because so many concerns could be causing it. Before you take any drastic steps and do any major furnace repair, try merely cleaning the air filters from your unit.
The air filters of your furnace will collect a variety of dirt and debris to keep your air clean and healthy. However, as they get dirty, they can start to interfere with how your unit runs. For example, dirt may fall inside and cause operational problems. Sniff the air while your unit runs – if you smell a musty odor that has a whiff of dirtiness to it, you may be burning dirt from your air filters.
Thankfully, this situation is straightforward to fix without professional help. Simply remove the air filter and replace it with a clean one. You may also have a furnace that uses a reusable filter, so you can clean it with water and put it back in the unit. If you don't feel comfortable with the steps in this process, go ahead and call a professional because they can ensure everything is done correctly.
HACK THREE: FURNACE BLOWER MAINTENANCE
Once you've cleaned out your air filter, you may as well take the time to oil your furnace blower at the same time. This furnace repair hack is one that you may not hear much about because most DIY sites ignore it. Many think that most homeowners wouldn't have the skills necessary to perform this reasonably simple task. As a result, you may not understand the benefits that it provides.
The furnace blower is a critical component on your heater because it draws heat from the interior and pushes it through your ductwork. When this component starts to wear down, your heater will naturally run less efficiently and push air with less force through your home. As a result, you need to make sure that you oil it regularly to ensure that its parts operate correctly and without fail.
Most people should be able to handle the simple task of oiling their furnace blower. Find the cover for the fan and open it up carefully. Place oil on the moving parts, such as gears and belts, and move them by hand to spread the grease. If you feel like this task is outside of your range of repair abilities, you may want to hire a professional to do a complete maintenance check for you.
HACK FOUR: KEEP YOUR PILOT LIT
Lastly, you need to make sure that your pilot light is running smoothly to keep your furnace in great shape. Pilot maintenance is one of the trickier parts of furnace repair, but it doesn't have to be a significant difficulty. For example, you can quickly check your pilot by turning the furnace off and on and listening for the lighting sound of the flame as you wait for the heater to turn on and produce heat.
If the pilot doesn't seem to want to light, you should remove the cover on the unit and watch the pilot. There may be a problem that is causing it to malfunction, such as crooked elements on the pilot. Or the light itself may have worn down over the years and need replacing. Diagnosing the exact problem is something that you should probably have a professional do, unless you know how to replace the whole unit.
Replacing the pilot light is a task that you should be able to handle but is often unnecessary. For example, a minor issue may cause the pilot to fail to light. However, you may not have the ability to diagnose this issue and adequately repair it. So while you can check to see if your pilot is failing to light and replace it as necessary, professional help is still the right choice.
ASK OUR PROFESSIONALS FOR ADVICE
So if you need high-quality furnace repair in Marion, Iowa, please don't hesitate to contact us at Comfort Solutions right away. Our professionals have years of repair experience and will do what is necessary to ensure that your heating and cooling units run efficiently and accurately.
Our A/C went out on the hottest weekend of the summer so far. I called the on call service due to it being a Saturday morning. I explained what was happening and they said that they could squeeze us in the afternoon. They called back 10 minutes later and said they were on the way. Comfort Solutions had us up and running in no time. We appreciated their promptness since we have a 5 month old son. I have recommended Comfort Solutions to many of my friends since we had our unit installed. All around a great company that cares for the customers.
Chad Weidemann
Homeowner
Reasonably priced, very professional, and very helpful. I call on these guys each spring and fall to clean and inspect my central air and furnace. And they have helped me on a couple repairs in the past, I've been doing business with them for many years!
David Olsen
Homeowner

Dedicated to making your home safer, more energy efficient, longer lasting, and ultimately more comfortable than the average residence. Serving the Cedar Rapids Area.