About Us
Comfort Solutions is the only company in Iowa that offers a total home comfort package. HVAC, Insulation, Energy Audits, and cutting edge AeroBarrier all under one roof. Combining expertise from the worlds of heating & cooling, insulation, air sealing and energy audits, we are dedicated to making your home safer, more energy efficient, longer lasting and ultimately more comfortable than the average residence.
We understand comfort is custom and we have the experience to tailor our services to your specific needs. Fixing problems comes down to understanding how homes operate as full energy systems. Our professionals have the experience and ability to test and analyze all factors that might be negatively influencing your home. As we always say, "if they aren't testing, they're probably just guessing."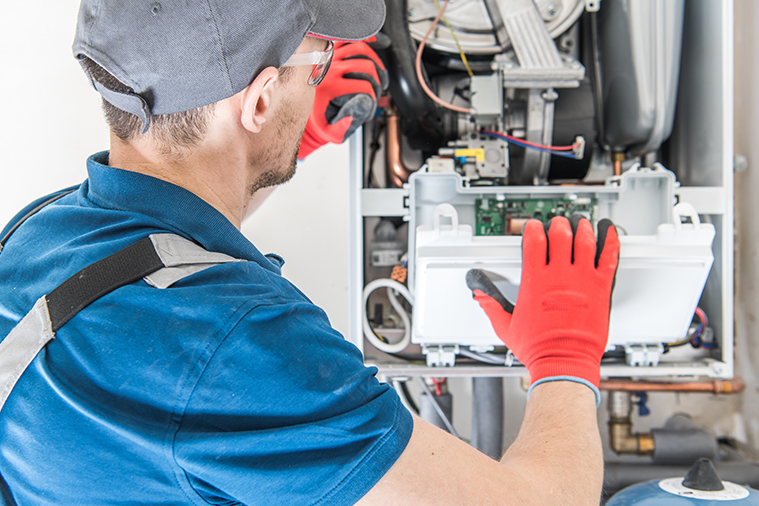 FURNACE CEDAR RAPIDS
TYPES OF FURNACES FOR YOUR HOME
You need a new furnace for your Cedar Rapids, Iowa home but aren't sure what type is right for your needs. Thankfully, you have many options from which you can choose. Make sure you read through the choices below to get an idea of which is right for your home's needs.
STEAM SYSTEMS – A GREAT CHOICE
A steam system is an excellent choice for those looking to install a new furnace in their home. They utilize a few different design options to create a high-quality heating solution. First of all, you can use steam produced by hot water in radiators to pump heat through your home in pipes or convectors. This option is one of the most popular and efficient types of steam systems available.
Other types of steam systems include radiant heat options that carry hot water through a concrete slab in the floor of your home. This option is an excellent choice for small homes because the heat will rise very efficiently and keep your home warm. Try to avoid installing this option if you have a home with multiple levels, as this will be too inefficient to warm higher levels in a house.
The downsides of this system include issues with radiator heat. Simply put, your radiator will be quite hot while you run your unit. As a result, you may get burned if you aren't careful. You also need to pay attention to overheating, as this problem can occur if you don't pay attention to how you set your heat. So only install these units if you're ready to maintain and operate them properly.
CENTRAL WARM-AIR HEATERS
Central warm-air heaters are a unique option for your home that provides many benefits. They operate by using a central combustor that uses a variety of different fuel types to produce your heat. The type of fuel used will vary depending on the unit. Some will draw directly from your electrical source to create a steady and consistent form of heat for your home.
However, others will use gas or fuel oil to produce the same effect. Typically, these units utilize a couple of different methods to distribute the warm air throughout your home. The first of these is gravity, as the furnace will use the natural flow of warm and cold temperatures to move air through your home. The other type is a forced-air heater that will use a fan to push air through your home.
The type that you use for your home will vary based on many factors. For example, a gravity system is an excellent choice for a smaller home because they won't need that much air to stay warm or cold. However, a forced-air system is a better choice for larger homes, though you may end up paying a bit more for these simply because the extra movement of the fan will require a bit more electricity to use.
HEAT PUMPS
Heat pump furnace options are also known as reverse-cycle systems. They typically provide a year-round level of protection that is unique among the options provided here. Their design is relatively simple and includes a compressor, coils for inside and outside, and a thermostat. As a result, they are often among the easiest to operate and maintain and usually cost less to install than other heaters.
These systems operate by drawing air from the ground outside of your home and pumping it into your house. For example, the earth will be warmer during the summer because it will trap heat while it will be cooler because it's farther away from the sun. This air is then pumped into your home and used to provide it with its heating and cooling needs. These units are typically among the most efficient.
However, these units do have a drawback or two. First of all, they are usually not strong enough for large homes and should be avoided if you have multiple stories. They may also lack the kind of precise temperature control that some people want. However, they are an excellent choice for those who want a more natural and efficient option and who lie in areas with mild temperatures.
WOOD AND PELLET STOVES
Lastly, you can consider wood and pellet stoves for your home. These heaters utilize wood pellets and various types of grains to produce heat for your home. As the stove warms up, the burning wood will provide a high level of heat that you can adjust by controlling the airflow into the heater or tweaking your thermostat to turn off the radiator as it runs.
Wood and pellet heaters are an excellent choice for many reasons. First of all, they put out a lot of heat and help keep your home very warm. Secondly, they are very efficient and use reusable materials to produce heat. They are also easy to maintain and can be appropriately operated by just about anybody, making them among the most natural types of heaters on the market.
The problem with these stoves is that you need to buy a substantial number of pellets at the beginning of the cold season. This investment can be quite high to do all at once and may be hard for some to afford. However, the cost of the pellets is often quite low compared to other types of heaters, which makes this a right choice for those who don't have a lot of money and who live in a cold area.
REACH OUT FOR HELP
If you need help finding the best furnace Cedar Rapids, Iowa has to offer, please contact us at Comfort Solutions today to learn more. Our experts have years of experience helping people like you and will work hard to ensure that you get the best heater for your home's needs.
Our A/C went out on the hottest weekend of the summer so far. I called the on call service due to it being a Saturday morning. I explained what was happening and they said that they could squeeze us in the afternoon. They called back 10 minutes later and said they were on the way. Comfort Solutions had us up and running in no time. We appreciated their promptness since we have a 5 month old son. I have recommended Comfort Solutions to many of my friends since we had our unit installed. All around a great company that cares for the customers.
Chad Weidemann
Homeowner
Reasonably priced, very professional, and very helpful. I call on these guys each spring and fall to clean and inspect my central air and furnace. And they have helped me on a couple repairs in the past, I've been doing business with them for many years!
David Olsen
Homeowner

Dedicated to making your home safer, more energy efficient, longer lasting, and ultimately more comfortable than the average residence. Serving the Cedar Rapids Area.